Please Note:
If you just want Pomegranate juice, go buy a bottle of pomegranate juice. There is no added benefit from buying a powder if all you want is the juice.

The powder is for adding to recipes. You can add some to a smoothie without adding any extra liquid. You can supercharge a popsicle by adding a bit of Pomegranate juice powder, or a salad dressing. Here are two salad dressings that use Pomegranate Juice Powder:
Blueberry, Pomegranate, Beet, Mangosteen Vinaigrette
Pomegranate Dijon Salad Dressing
Use this powder when you want to supercharge something!

Organic Pomegranate Juice Powder

If you are thinking of getting a better price on Amazon (or eBay) you really should read this:

You get what you pay for . . . and it's not good.

...and they don't come from the USA.
That's right. The organic pomegranate juice on Amazon comes from China or Brazil.
We have checked this out thoroughly.
We Guarantee You the BEST
Organic Pomegranate Juice Powder
Grown and Processed in the USA!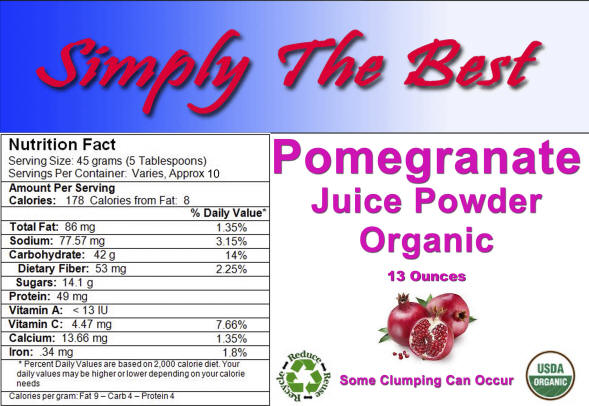 Sellers on the web will tell you to mix three tablespoons in 6 oz of water. That's bull. To reconstitute, you need a minimum of 5 tablespoons per 6 oz of water. If mixing into a smoothie, put in as much or as little as you want.
PLEASE NOTE: These things shipped in the hot summer months causes "clumping." The product is still fresh, but some clumping in this Pomegranate Powder most DEFINATELY will happen. An immersion blender can solve this or just letting the juice sit overnight. To make up for this, we are overfilling the Pomegranate orders. Also, as we were re-packing the pomegranate powder, everyone was on the lookout for the big hard chunks because it was the best candy we'd ever tasted. I (your shipper) have a pound and a half of chunks in my kitchen that I share with friends when they come over now.
Because of recent rises in postal rates, we have created a weird size 13 ounces to stay under the cut-offs. With the weight of packaging, just one more ounce doubles shipping costs.


Every price is less than 10% above our cost and FREE SHIPPING

13 Ounces - in a Resealable Bag


was $32.79

2 Pounds - in a Resealable Bag
was $70.00
3 Pounds - in a Resealable Bag
was $104.99
$55.99 Free Shipping


1 Left



---

Neither the products nor this site are designed to diagnose or treat you. Your health is in your hands. If you are sick, see a physician.  
We make no claims about our products. If you want information about the product, please click the links supplied and go read about them.
We sell these products hoping they will make you feel better and that they will work for you. If they do not or you respond adversely
to tto them, just contact us at stbestone@gmail.com,. Simply return the unused portion to us within 30 days of purchase and we will
promptly refund you your money minus shipping and a 10% restocking charge.pre>