Was known as Algoran-FS - Your PayPal receipt will say Algoran FS.
Eclonia Cava Extract, Tongat Ali, and Rhodiola Rosea. These last to supply energy, potency, and balance stress hormones. Here is a study on Tongat Ali and another on Rhodiola Rosea.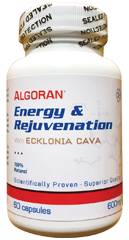 One Bottle: $39.95 $31.96 + S&H.
Two Bottles: $79.90 $63.92 + FREE Shipping in the US
Four Bottles: $159.80 $127.84 + 1 Bottle Free + FREE Shipping in the US
We do NOT ship outside the US ─ or to Canada ─unless you order EXTRA SHIPPING AND INSURANCE on the left.
For Research and reviews of ECE, go here: www.eckloniacava.com.