Ecklonia Bicyclis
The cost of Ecklonia has climbed due to Fukushima; the product has to be harvested from a different area deeper down and a greater cost. The cost of packaging is up. But the people who make Ecklonia Cava Extract have lowered the price to get it out to all who want it.
This version, the bicyclis, is more bioactive than the Ecklonia Cava, and they've discovered a method of extracting more of the polyphenols.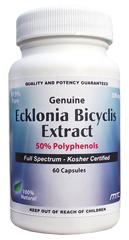 Genuine Ecklonia Bicyclis Extract WITH 50% POLYPHENOLS than their original product.
One Bottle: 39.95 $31.96 + S&H.
Two Bottles: $79.90 $63.92 + FREE Shipping in the US
Four Bottles: $159.80 $127.85 + One FREE Bottle and FREE Shipping in the US
We do NOT ship outside the US ─ or to Canada ─unless you order EXTRA SHIPPING AND INSURANCE on the left.

For Research and reviews of ECE, go here: www.eckloniacava.com.