Simply the Best's
Moisturizing FaceWash
(HandWash)
Made from (our BodyWash) a pure (organic) base of saponified oils of certified organic sunflower & coconut, organic vegetable glycerin, potassium citrate & citric acid (to balance the pH). With one ounce per 16 ounces, of Ron Salley's Ultra Moisturizer which retailed for $16/oz. (He no longer makes it but supplies it to us.)
Ultra Ingredients: Avocado Oil, Almond Oil, Apricot Kernel Oil, Echinacea Purpurea, Pau D'Arco, Melaleuca Alternifolia, Boric Acid Solution, Vegetable Steric Acid, Olive Oil, Garlic Oil, d-Alpha Tocopherol (Vitamin E), Natural Beeswax, Coconut Oil, and Vitamin C
INFUSED WITH ALOE VERA!
Every ounce of FaceWash has an ounce of aloe vera in it.
(AT NO EXTR COST)
There are NO surfactants in this product and you MUST shake well.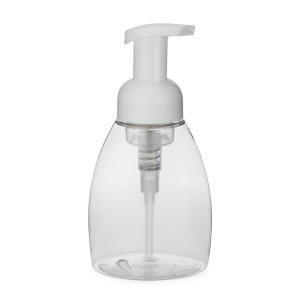 AND GET THIS: YOU CAN ORDER A SUPER ANTI-BACTERIAL VERSION WITH BACO IN IT.
We can get you this FaceWash a number of ways in an 8.5 oz Plastic Foamer Bottle
And you can make it yourself, using our BodyWash. Just order the bottle with your BodyWash. If you simply want this bottle and nothing else, we have to charge you $3.00 for the bottle and $3.00 for shipping. Unless you're ordering something else from this site, then shipping is included.
Foamer Bottle with Free Shipping
(You are ordering more from this site)
Foamer Bottle with $3.00 Shipping
(This is all you are ordering.)
We're giving you options on how you would like to order this FaceWash (moisturizing Hand/Wash), and shipping charges depend on if you are ordering this alone, or with something else. If with something else, then shipping charges will be added on when you check out. If alone, you can save a buck or two here.
Our cost to make the BodyWash is $0.83/oz. which we sell at around $1.00 per ounce. We are not going to add a scent (essential oil) to this, but now we are handling Essential Oils which you may purchase separately. And if you do order an essential oil to go with THIS order, order it without shipping, for shipping charges will be added here.
To make the bottle "foam," the water to soap ratio is about 60/40, or 5 ounces water to 3 ounces of our BodyWash. When we fill a bottle with 3 oz of BodyWash, we then rinse the cup with one ounce of filtered water to get the residual Bodywas into your bottle. So, it comes with 3 oz BodyWash and 1 oz Filtered Water, unless, of course, you're ordering the Super Anti-Bacterial version, then you get an additional 4 ounces of BACO.
The Anti-Bacterial version has 4 oz BACO. We don't sell it in a 4 oz bottle, but if we did, that would retail for $15.00 plus shipping.
Ordered Alone
Ordered With Something Else From This Store
1 Bottle w/ 3 oz BodyWash + 1 oz Filtered Water
(you add 4 oz water)
$6.00 + 4.00 shipping

1 Bottle w/ 3oz BodyWash + 1 oz Filtered Water(you add 4 oz water)
$6.00 No Shipping Added
IF YOU'VE ORDERD AN ESSENTIAL OIL SEPARATELY.

1 Bottle w/3 oz BodyWash + 1 oz Filtered Water $6.00 + $5.00 shipping ing


If you've purchased Essential Oil(s), same as above, no shipping added till you check out with the rest of your order.
Anti-Bacterial

1 Bottle w/ 3 oz BodyWash, 4 oz BACO, 1 oz Filtered Water.
$19.00 + 8.00 shipping (added at checkout)

Same as on your left.
We apologize if the shipping charges here are confusing, but Pay Pal is not flexible and we're trying to work around their methods of collecting shipping. Shipping costs with the USPS go up Jan 21, 2018 and we are not going to raise our shipping charges. We'll see how that works out.


WE BELIEVE IN A SMALL FOOTPRINT
AND MINIMAL PACKAGING

Your FaceWash will come to you in a plain, reusable plastic squeeze bottle with NO label stuck to it so that you may wash it out and reuse it immediately.


Our First Testimonial!

| | |
| --- | --- |
| | I love the new foaming Face/Hands/Body Wash! It goes on lusciously but washes off cleanly, leaving your skin soft, not at all dry. It is a great product! ~ Elda Costigan |
Neither the products nor this site are designed to diagnose or treat you. Your health is in your hands. If you are sick, see a physician. 
We make no claims about our products. If you want information about the product, please click the links supplied and go read about them.
We sell these products hoping they will make you feel better and that they will work for you. If they do not or you respond adversely
to them, just contact us at 

[email protected]

,. Simply return the unused portion to us within 30 days of purchase and we will
promptly refund you your money minus shipping and a 10% restocking charge.