BACO─Oxygen Rich Solution
BACO is one atom of silver bonded with multitudes of oxygen atoms .
It is the most powerful sanitizing agent (disinfectant) known to human kind. It not only kills bacteria and viruses (pathogens) on contact, it stays on the surface to kill returning pathogens.
Studies at Creighton University show that, at a 1 to 2 ratio (BACO to water) it successfully wiped out three major pathogens. (See image below the BACO Label.)
PLEASE NOTE (CAUTION!)
Many sites on the Internet selling something called Covalent Silver Solution are frauds. At one time, if you searched for those three terms, you would get 714,000 results. We have thoroughly researched this product and took us over 16 years to find the inventor. We also found that nearly every site selling something they refer to as "Covalent Silver Solution" was a fraud. Over the years, those fraudulent sites have slowly been shut down because they've violated copyright laws and were unwilling to face lawsuits. As of January 2016, this is the only site selling the original product made by William Blessing. It's real name is BACO and it comes directly from a company established while the inventor was still alive.
1 Quart BACO
$200.00 + Shipping
4 Quarts of BACO (One Case)
$600.00 + Shipping
If you wish to return your BACO for your money back, you must send us UNOPENED bottles only. We cannot refund an
opened
bottle. Return to Simply the Best, PO Box 1, Grandy, MN 55029

Kitchen and Bathroom Germicide

A study out of Creighton University (see image at right) conducted by Christine C Sanders, PhD, showed that 1:2 dilution, BACO killed, on contact, e-coli, staph, and P. aeruginosa, as multi-drug resistant pathogen. Additionally, BACO goes into the surface upon which it is used and continues to kill germs for days. However, further studies showed that BACO killed germs when four ounces were mixed with water to make a gallon. The inventor always used it as a germicide, most often, in a 1:4 dilution.
Bathroom Wipes
To feel really fresh and know you are fresh, here is a we use in our home.
1 ½ Cups Distilled/Filtered Water
¼ Cup BACO
We have stopped using Aloe Vera because of the mold it creates. We've learned that it's harmless, but it just looks nasty.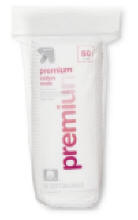 Put all ingredients into an 8 ounce container (volume), shake well, then add some cotton ovals. We use the Premium Ovals you see pictured here. You can compress nearly this entire pack of 50 into that 16 oz container if you press firmly but slowly (to let them absorb the liquid).
When you order a bottle of BACO, we can send you an 16 oz plastic container for $2.00 (no extra shipping).
Guaranteed, your family (and friends) will love this.
"These statements have not been evaluated by the Food and Drug Administration. 
This product is not intended to diagnose, treat, cure, or prevent disease."
Neither the products nor this site are designed to diagnose or treat you. Your health is in your hands. If you are sick, see a physician.
We make no claims about our products. If you want information about the product, please go read about them on the web.
We sell these products hoping they will make you feel better and that they will work for you. If they do not or you respond adversely
to them, just contact us at stbestone@gmail.com, We make no claims for any  of our Nano Silver products.
We do not guarantee or warrantee the product in any way whatsoever.