BACO─Oxygen Rich Solution
This is a Disinfectant. No claims are made beyond the lab report from Creighton University.
BACO is one atom of silver bonded with multitudes of oxygen atoms .
It is the most powerful sanitizing agent (disinfectant) known to human kind. It not only kills bacteria and viruses (pathogens) on contact, it stays on the surface to kill returning pathogens.
Studies at Creighton University show that, at a 1 to 2 ratio (BACO to water) it successfully wiped out three major pathogens. (See image below the BACO Label.)
PLEASE NOTE (CAUTION!)
Many sites on the Internet selling something called Covalent Silver Solution are frauds. At one time, if you searched for those three terms, you would get 714,000 results. We have thoroughly researched this product and took us over 16 years to find the inventor. We also found that nearly every site selling something they refer to as "Covalent Silver Solution" was a fraud. Over the years, those fraudulent sites have slowly been shut down because they've violated copyright laws and were unwilling to face lawsuits. As of January 2016, this is the only site selling the original product made by William Blessing. It's real name is BACO and it comes directly from a company established while the inventor was still alive.
---
Notice
The company is out of silver. There are 15 gallons of BACO left on the planet. We are not giving up our quest for silver: the purest silver on earth. We are not giving up hope. But supply and demand forces us to raise our prices and as far as bottles with or without sediment, you have no choice in the matter. If all we have left is with sediment, you're getting it and be lucky to get that. We are jumping thru our butts to find what we need to get more to the public.
---
1 Quart BACO
$250.00 + Shipping
---
3 Quarts of BACO (One Case)
ONE CASE PER CUSTOMER
$700.00 + Shipping
---
If you wish to return your BACO for your money back, you must send us UNOPENED bottles only. We cannot refund an
opened
bottle. Return to Simply the Best, PO Box 1, Grandy, MN 55029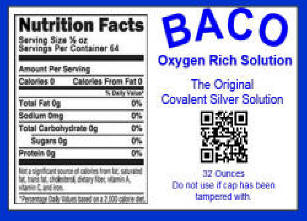 Kitchen and Bathroom Germicide

A study out of Creighton University (see image at right) conducted by Christine C Sanders, PhD, showed that 1:2 dilution, BACO killed, on contact, e-coli, staph, and P. aeruginosa, as multi-drug resistant pathogen. Additionally, BACO goes into the surface upon which it is used and continues to kill germs for days. However, further studies showed that BACO killed germs when four ounces were mixed with water to make a gallon. The inventor always used it as a germicide, most often, in a 1:4 dilution.
Bathroom Wipes
To feel really fresh and know you are fresh, here is a we use in our home.
1 ½ Cups Distilled/Filtered Water
¼ Cup BACO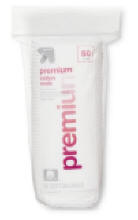 Put all ingredients into an 8 ounce container (volume), shake well, then add some cotton ovals. We use the Premium Ovals you see pictured here. You can compress nearly this entire pack of 50 into that 16 oz container if you press firmly but slowly (to let them absorb the liquid).
Guaranteed, your family (and friends) will love this.
The information within these pages is presented to you for educational purposes only and is not designed for self-assessment or self-treatment.
The statements made regarding BACO have not been evaluated by the Food and Drug Administration. The efficacy of BACO has not been confirmed by FDA-approved research. BACO is sold as a disinfectant only and is not intended to diagnose, treat, cure or prevent any disease.
All information presented here is not meant as a substitute for or alternative to information from healthcare practitioners. Please consult your healthcare professional for advice and care concerning your health and wellness.
If you have any questions, please write to stbestone@gmail.com.