If you are ordering from outside the US
you MUST purchase extra shipping for the Four Bottle Special (for one bottle, it's added automatically)
M A G N A S C E N T
Retail Prices are in GREEN....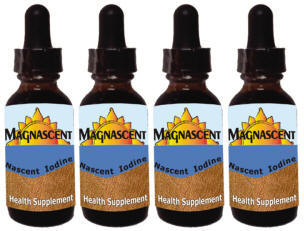 Detoxified Iodine created according to Edgar Cayce's second Reading.
1 Full Ounce Magnascent (2%)
$36.00
$32.99 plus Shipping & Handling

FOUR Bottles 1 Ounce Magnascent (2%)
$144.00
$120.00
INSTRUCTIONS
Keep the bottle of iodine out of direct sunlight at all times.
The adult dose is 3 - 5 drops in the morning and, if you think you need it, 3-5 drops in the evening, however it is best to start with one drop twice a day and to gradually increase by one drop every 3-7 days to avoid a detox reaction.
If you are ill, then 8 - 12 drops 2 - 3 times a day, depending on how ill you are.
For adults there are 2 effective ways to take this iodine:
If your stomach is empty, put the drops in ½ glass of water and drink it. You will know if you have an empty stomach by the way you feel, if you feel hungry and it is at least 2-3 or more hours after eating or drinking anything other than water your stomach will be empty. After taking the iodine, please wait 30 minutes before eating.

If your stomach has food or drink in it you can put a small amount of water in a glass, add the drops and hold this water in your mouth for 3-5 minutes, then swallow. Most of the iodine will be absorbed though your mouth.

For infants or toddlers simply put 1 drop on the skin twice a day and it will be absorbed through the skin.

Neither the products nor this site are designed to diagnose or treat you. Your health is in your hands. 
If you are sick, see a physician. We make no claims about our products. If you want information about 
the product, please click the links supplied and go read about them.  We sell these products 
hoping they will make you feel better and that they will work for you. If they do not or you respond 
adversely to them, just contact us at stbestone@gmail.com,. Simply return the unused 
portion to us within 30 days of purchase and we will
promptly refund you your money minus shipping and a 10% restocking charge.