Del-Immune V ™
We have it now, but we are shipping it very regularly and we run out quickly.

If you order, we will write to you telling you if it will go out right away, or if there will be a slight delay
(And you probably know why.)
STAY SAFE!
Click Here to get our Newsletter.
Past Product: 25 mg, 100 caps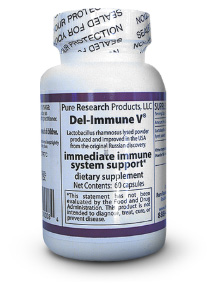 New Product: 100mg, 60 caps
Probiotics that have been lysed (broken open). Order Below.
Dosage: Take one capsule daily for immune protection;
if ill, take 2 capsules every 12 hours till symptoms disappear.*
Personal Recommendation: At first sign of a cold or flu, take 2 - 3 capsules and REST. If not well in 8 hours, repeat. *
Because of our agreement with the manufacturers, we have had to raise our price. It is still the lowest price on the web.
60 Capsules $50.00 + Shipping & Handling
*DISCLAIMER
This product has not been evaluated by the Food and Drug Administration.
This product is not intended to diagnose, treat, cure or prevent any disease. It is not a substitute for professional care. If you have, or suspect you might have, a health problem, or if you have questions about your medications, you should consult your health care provider.
Please read our Shipping Policy.