$47.50/bottle
plus s&h
Purchase Shipping to Canada
Purchase Shipping Overseas
Miracle Skin Sugar Foot
is the best foot cream you will ever find.
Testimonials from Surgical Nurses (who wash their hands 30 to 60 times a day) tell us that nothing stops the cracks and burning sensation like Miracle Skin Sugar Foot.
To read about it click here: Ron Salley Products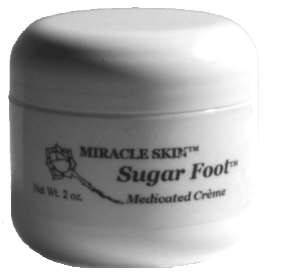 Contains: Distilled Water, Avocado Oil, Almond Oil, Sweet Almond Oil, 
Echinacea Purpurea, Pau D'Arco, Melaleuca Alternifolia, Boric Acid,
Stearic Acid,  Olive Oil, Garlic Oil, d-alpha Tocopherol
(Vitamin E), Beeswax, Coconut Oil, Vitamin C.
Contents: 2 oz.
Directions: Apply to foot and massage for one minute into areas of dry
or cracked skin.
All pictures are copyrighted by the photographer, please do not use them without asking.

Neither the products nor this site are designed to diagnose or treat you. Your health is in your hands. If you are sick, see a physician. 
We make no claims about our products. If you want information about the product, please click the links supplied and go read about them.
We sell these products hoping they will make you feel better and that they will work for you. If they do not or you respond adversely
to them, just contact us at stbestone@gmail.com,. Simply return the unused portion to us within 30 days of purchase and we will
promptly refund you your money minus shipping and a 10% restocking charge.