SuperFoods
We have the BEST PRICES on the web for these ORGANIC superfoods. Additionally,
they come to you in food-safe plastic containers that cost, wholesale, just under $2.00 per.
They are strong and re-usable; better than Rubbermaidģ.

The label will be inside the package, but not attached unless you order one of each
(beet and pomegranate), and then they will be attached "lightly." This is so you may easily reuse the container.
We believe in leaving behind a small footprint.
One More Thing: These do not come with a safety seal. That would be required to keep people from poisoning you were they going onto shelves in a retail store. These are all filled in a clean commercial kitchen and go directly from us to you. The only people who could poison you would be us, and the first rule of continued sales is: Do not poison your customer.
Pomegranate Juice Powder (Organic)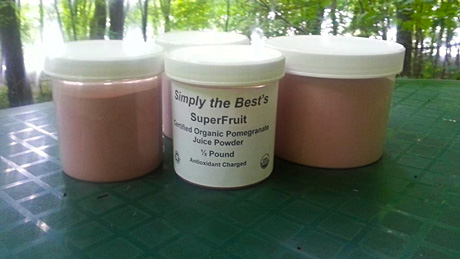 Sellers on the web will tell you to mix three tablespoons in 6 oz of water. That's bull. To reconstitute, you need a minimum of 5 tablespoons per 6 oz of water. If mixing into a smoothie, put in as much or as little as you want.
PLEASE NOTE: These things shipped in the hot summer months causes "clumping." The product is still fresh, but some clumping in the Beet Powder can happen, and it most DEFINATELY happened with the Pomegranate Powder. An immersion blender can solve this or just letting the juice sit overnight. To make up for this, we are overfilling the Pomegranate orders. Also, as we were re-packing the pomegranate powder, everyone was on the lookout for the big hard chunks because it was the best candy we'd ever tasted. I (your shipper) have a pound and a half of chunks in my kitchen that I share with friends when they come over now.
Something New!

If this is all you need (nothing else ordered):

14 Ounces in a Vacuum Sealed Bag At $6.00 off the above price.


$24.06

$21.50 + S&H
Please Note

We do not remove ALL the air when we vacuum pack these. If we did, your powder would arrive as a solid hard rock. We learned this the hard way. So, there will be air in these sealed bags.
You are saving us on packaging and a bit on shipping and we pass this onto you ─

if this is the only thing you are ordering at this time.
---

Organic Beet Juice Powder (The Best Price On The Web!)
Article: Beet juice might be the secret to staying young
Something New!
If all you are ordering is either a half pound or pound of Beet Juice and nothing else will be on the order, we can save you some money.
Your order will come in a sealed bag (with "some" air vacuumed out; not all, because it turns into a rock), which saves us on the container. And if you order 14 ounces rather than 16 ounces, we save on shipping costs. (Store in an air tight container.)
We pass this onto you.
Needless to add, you can only order ONE of any of these
or the order goes over a pound and the higher shipping costs kick in.
THESE ARE ALL SOLD OUT
Ĺ Pound in a Vacuum Packed Bag
$21.99 $19.99 + S&H
SOLD OUT!


14 Ounces in a Vacuum Packed Bag
$34.95 $31.95 + S&H
SOLD OUT!

One Half Pound - $21.99 + S&H


Plastic Re-usable Container

One Pound - $39.95 + S&H
Plastic Re-usable Container


2 in Inventory

Three Pounds - $110.99 + S&H


Plastic Re-usable Container




SOLD OUT!
Here is a recent testimonial for our Beet Juice Powder
In October 2006, I was diagnosed with atrial fibrillation. Since then I had many different medications, treatments and surgeries. I now have a pacemaker and have finally arrived at a good balance of medications and exercise to keep a-fib well managed - except I was constantly tired and easily fatigued.
Iíve seen many ads for the Superbeets product and finally did some searching on Google Scholar to see if there was any science behind the claims. Turns out there is lots of science indicating positive results, but I was uncomfortable with the other ingredients added to Superbeets and cost.
I found your product after searching online. Iíve been drinking 1 heaping teaspoon in 16 ounces of diluted fruit juice a couple of times a day. So far, my maximum heart rate has dropped from 174 to the mid-150s and I no longer wheeze when walking uphill or arrive home winded and wanting to lay down.
This isnít a cure for a-fib, but it absolutely increases my level of energy and decreases post-exercise fatigue. Since your product is just powdered beet juice, I donít have to worry about any interactions with current a-fib or type 2 diabetes medications. It just works.

Steve Stone