Special Limited Offer
BOGO Sale!
(Buy one get one free.)
Simply the Best's Rejuvenating Cream
One of our partners made a delicious rejuvenating cream with ecklonia bicyclis extract in it. It was made and designed and tested in France. It moisturized, softened wrinkles, penetrated and protected the skin of your face. It was anti-wrinkle and anti-aging.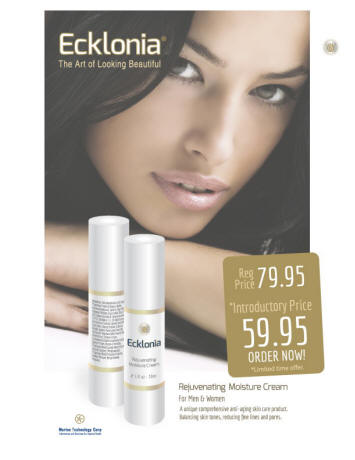 However, they packaged it twice and couldn't get their pump to work and finally just decided to throw it out and start over.
But, we decided to do something a little different. We hired the handicapped to remove all the creams and re-package in in a simple white, 2 oz container. You can see what one ounce sold for in the original advertising to the right.
We have a limited amount. When they're gone they're gone, but now you can get our own Rejuvenating Cream now for just $29.99 for (almost) 2 ounces. We add the almost because a bit of residue is left in the bottles we're transferring the cream from.
Special Sale
For a limited time, we're having a 2 for 1 sale.
Buy one, get one free.
Ingredients: Aloe Barbadensis Leaf Liquid, Proprietary Protein (Collagen, Elastin, Glycosaminoglycans), Glycerine, Cetyl Alcohol, Isopropyl Palmitate, Oryza Sativa (Rice) Bran Oil, Cetearyl Glucoside & Cetearyl Alcohol, C14-22 Alcohols & c12-20 Alkyl Glucoside, Simmondsia Chinensis (Jojoba) Seed Oil, She Butter, Glyceryl Stearate, Ecklonia Bicyclis, Squalane, Rosa Cania Fruit Oil, Hamamelis Virginiana (Witch Hazel) Water, Dimethicone, Chondrus Crispus, (Carrageenan), Sodium Isostearoyl Lactylate, Quinoa Protein, Vitamin A palmitate, Proprietary Blend (Caprylyl Glycol, Glycerin, Glyceryl Caprylate, Phenylpropanol), Proprietary Blend (Potasium Sorbate, Sodim Bensoate, Benzyl Alcohol), Fragrance.
Instructions: Wash and dry your face. Apply lightly. This is potent. Apply over your entire face, but lightly.
"These statements have not been evaluated by the Food and Drug Administration. 
This product is not intended to diagnose, treat, cure, or prevent disease."