ImuReGen®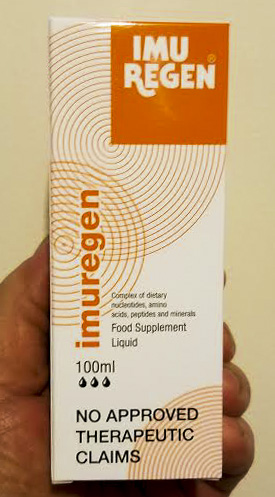 Imuregen® has ingredients important to the growth and division of cells, and tissue construction. It plays a supporting role in liver disease, healing of wounds, fractures, and restoration of digestive function after an intestinal infection.
It's use has shown it to enhance the immune system, and for over 20 years, it has not shown to have one side negative effect.
Wellness Journeys is now collecting testimonials from users that will be published once amassed.
Imuregen® is a Multi Level Marketing product and to be blunt, we despise MLMs. No one makes squat through sales, and the only reason we are carrying it is we are a non profit, we help people, and so far testimonials have demonstrated that this product is helpful, though, we're taking everything with a grain of salt.
If you would like to be in our "downline.," just write to us: [email protected] and we'll jump thru our butts to help you.
This product is not designed/intended to diagnose or treat any illness.
Your health is in your hands. If you are sick, see a physician.
We make no claims about our products. If you want information about the product, please click the links supplied and go read about them.
We sell these products hoping they will make you feel better and that they will work for you. If they do not or you respond adversely to them, just contact us at [email protected], Simply return the unused portion or empty container to us within 30 days of purchase and we will
promptly refund you your money.