$17.99 includes shipping


Colors/In Inventory
J5-V1 Pro
Retail Price $19.95 ── You pay just $17.99 and that includes the shipping.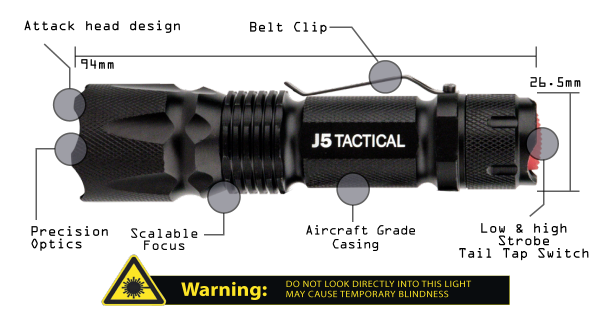 300LM J5 V1 PRO Tactical Flashlight. LED with Adjustable Focus Light Lamp (Head of the flashlight can be pulled out to focus the beam).
Super mini size, bright, blinding effect.
Skid-proof design.
Output bright can come to 300 lumens (MAX).
This mini flashlight can use AA size Alkaline, NiMH, and lithium 14500 batteries.

Bright, blinding effect.
Skid-proof design.
Output bright can come max to 300 lumens (manufacturer rated).
Adjustable focus range for different usage, stretching to adjust its focus.
Clip for convenience carry. Working voltage is wide and can utilize the batteries in the largest extent. Suitable for hunting, cycling, climbing, camping and outdoor activity, etc.
Modes: On-Off, 3 Different Modes of use: High / Low / Strobe
Lumens: 300LM (manufacturer rated)
Reflector: Convex Lens
Material: Aluminum alloy
Switch: Tail-cap press ON/OFF
Battery: 1 * AA / 1 * 14500 3.7v Battery (not included)
Size: 9.4*2.6*2.6cm
Weight: 65g
NOTE:
We recently got an email telling us that on Amazon, you can buy 5 of these flashlights for $15.00. We went to Amazon and found the five for $15, but they are NOT THIS flashlight. They are made by CREE and are called UltraFire. We ordered one and below is a picture of it. It was bright. It ran the the various modes by turning it on and off, from Bright, to Dim, to Flash Bright. Only one thing, it wouldn't turn off. You get what you pay for.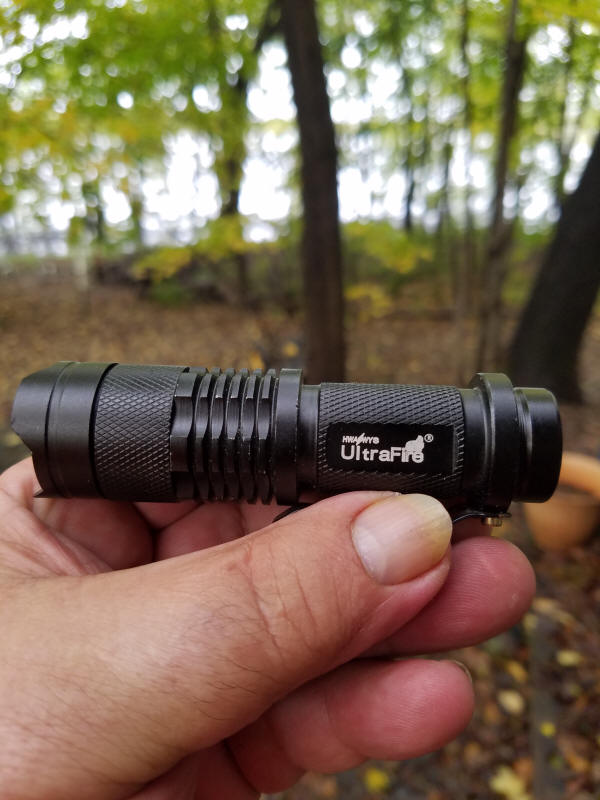 Neither the products nor this site are designed to diagnose or treat you. Your health is in your hands. If you are sick, see a physician.
We make no claims about our products. If you want information about the product, please go read about them on the web.
We sell these products hoping they will make you feel better and that they will work for you. If they do not or you respond adversely
to them, just contact us at stbestone@gmail.com, We make no claims for any  of our Nano Silver products.
We do not guarantee or warrantee the product in any way whatsoever. All purchases are final.