Algoran-FS
Algoran-FS 20% off!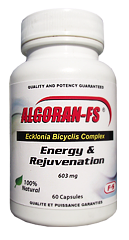 Genuine Ecklonia Bicyclis Extract with Nano Curcumin, to shut off the master switch for inflammation.
One Bottle: $39.95 $31.96 + S&H.
Two Bottles: $79.90 $63.92 + FREE Shipping in the US
Four Bottles: $159.80 $127.84 + 1 Bottle Free + FREE Shipping in the US
We do NOT ship outside the US ─ or to Canada ─unless you order EXTRA SHIPPING AND INSURANCE on the left.
For Research and reviews of ECE, go here: www.eckloniacava.com.