Ecklonia Cava & Ecklona Bicyclis
Now with 50% Polyphenols
The cost of Ecklonia has climbed due to Fukushima; the product has to be harvested from a different area deeper down and a greater cost. The cost of packaging is up. But the people who make Ecklonia Cava Extract have lowered the price to get it out to all who want it.
The first product released was Ecklonia Cava Extract, 98.8% pure. There is nothing like it in the world, and we are are lucky enough to be the sole American distributor.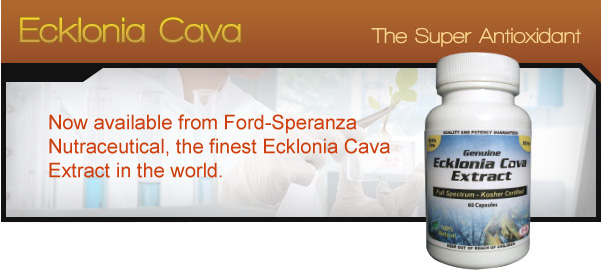 Click on the Picture above to see the offers on ECE and how to order.
For Research and reviews of ECE, go here: www.eckloniacava.com or here: www.mnwelldir.org/docs/nutrition/ece.htm.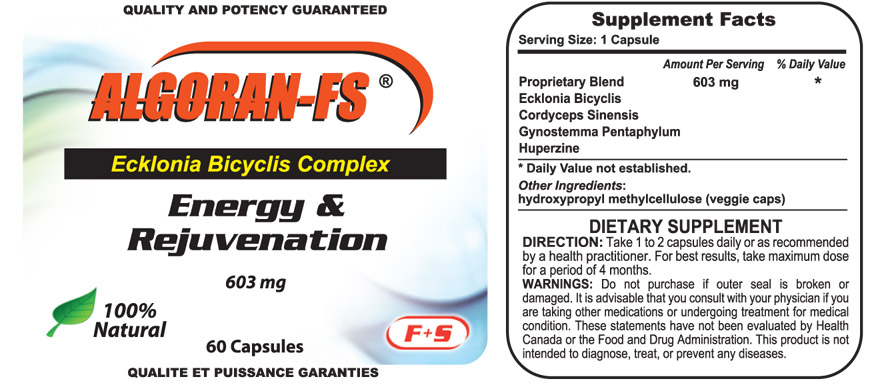 Note from the manufacturer: Algoran-FS is the first of many new formulas that we will be introducing to you this year. It is an Ecklonia Bicyclis Complex consisting of Ecklonia Bicyclis Extract, Cordyceps Sinensis, Gynostemma Pentaphylum and Huperzine. It is an "Energy and Rejuvenation" formula, that will help you get through the day when you're feeling sluggish. Since we are the manufacturer of all the ingredients, you can be assured that we source only the finest raw materials and have the finest processing methods that yield a pristine extract free from any and all contaminants. This is our guarantee to you as manufacturer.
Click on the Picture above to see the offers on Algoran-FS and how to order.
What is the difference between Ecklonia Cava and Ecklonia Bicyclis?
Roger Drummer is a formulator, a U.S. Patent holder and a NCCAOM Diplomate of Chinese Herbology who travels extensively throughout North America lecturing on the benefits of Chinese Tonic herbalism and nutrition.AskRogerDrummer.com
Guaranteed to be better than 98% pure
Full Spectrum
Kosher Authenticated
Our water extraction process yields no impurities
Available in bulk
Certificate of Analysis available upon request
Ecklonia Cava and Ecklonia Bicyclis extracts are marine plant species that are derived from edible brown algae harvested from the waters off the south western coastline of Japan, Korea and south eastern coastline of China. Their molecular structures are very similar in terms of natural occurring constituents. Differences lie in their polyphenol (phlorotannins) value. Both species contain Eckol, Bieckol, Dieckol and Phlorofucofuroekol*, however, the Bicyclis species also contains Phloroglucinol, Phloroglucinol Tetramer and another unknown phenolic that we have not been able to identify**. Ecklonia Bicyclis has a greater variety of polyphenols and is more comprehensive in the way it behaves as an antioxidant. Ecklonia Cava, on the other hand, has fewer polyphenols but the polyphenols it does contain are more concentrated. Both are extremely effective as antioxidants and work well in conjunction with other supplements and vitamins. Thousands of people throughout Asia have been consuming these types of algae for centuries.
All studies indicate that there is no toxicity at any level. Numerous clinical tests have been done and no adverse effects have been found at any human dosage level of 1-10mg/kg.
*http://www.eckloniacava.com/pdf/APR-Brown_Algae_Polyphenol.pdf
**http://www.eckloniacava.com/pdf/MTC-CONSTITUENTS-OF-E-BICYCLIS.pdf
New!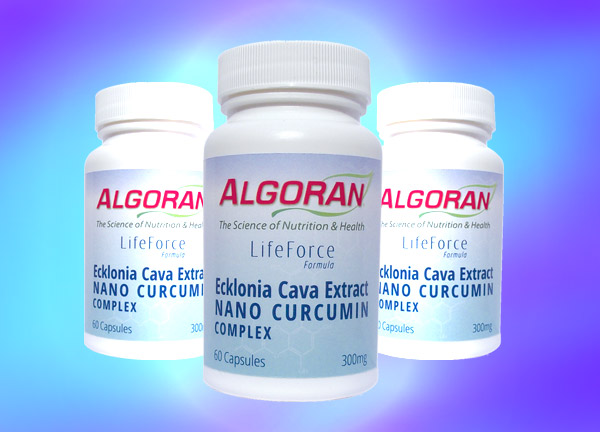 ALGORAN LIFEFORCE



THE ULTIMATE ANTIOXIDANT/ANTI-INFLAMMATORY FORMULA
Algoran LifeForce formula is a blend of Ecklonia Cava and Nano-Curcumin. These two natural ingredients are considered by many researchers to possess properties that are extremely effective in reducing inflammation and oxidative stress.

Inflammation is part of all disease states and nano-curcumin shuts off the master switch for inflammation in the body. It is the preferred antioxidant for smokers, those with arthritis, inflammatory bowel disease and pain. It can also be taken as an overall protective herb for general health. Combined with ecklonia cava, Algoran LifeForce can be used as a master antioxidant and anti-inflammatory formula for any adverse condition in the body.

INTRODUCTORY PRICE $29.95 (UNTIL OCTBER 24th). REG: $39.95
BUY 3 BOTTLES AND GET FREE SHIPPING